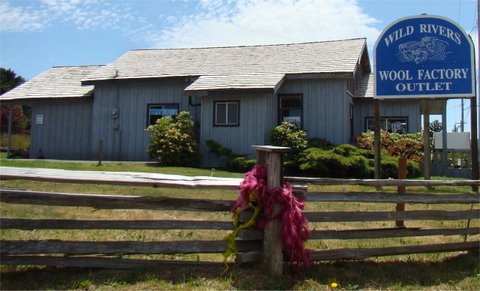 Located in the remote area of Wild Rivers Coast in southwest Oregon, Wild Rivers Wool Factory was started in 2005 by two local women with a dream, desire and a vision of creating jobs, increasing cash flow in the community, while promoting the sheep and wool industry in the United States and creating an experience for the artist, crafter, hobbiest and traveler.
With the help and support of their community and families, a long held dream was brought to reality. The Factory Outlet Store opened Memorial Day, 2008, and has been supplying quality natural fiber goods and services for over 8 years. The Outlet Store features all locally grown fibers, representing over 20 different sheep breeds, local alpaca, llama, mohair & pygora goat, and angora bunny. All our finished goods are made locally by more than 50 artists, artisans and hard working master craftsmen.
Wild Rivers Wool Factory offers classes, workshops, demonstrations, apprenticeships, scholarships, and most of all, an enthusiasm for EVERYTHING WOOL.
When you choose to support Wild Rivers Wool Factory, you choose to support a community.